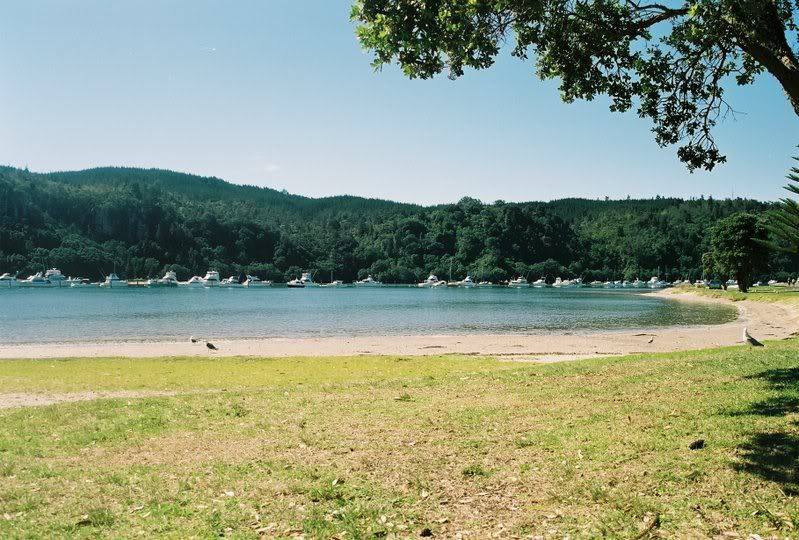 We have just returned home from a lazy week at the beach with good friends. Well, perhaps lazy is not the best word. Four adults and eight kids aged 6 months to 5 years!!! We went to
Whangamata
, quite possibly the coolest place to be...except at New Year's when seeminglyevery teenager in the country converges for a drunken fest and the police set up temporary holding cells in the carpark.
The kids had a ball, playing in the estuary, riding bikes on flat roads with practically non-existent traffic, eating treats almost every day, meeting new friends, drawing, playing games and relaxing as kids do...at full throttle!
The adults spent a lot of time organising said children, managing squabbles over toys, nursing owies and trying to keep everyone quiet through the night in the tiny three bedroom bach.
We did get to spend some time with old friends who made the move from Auckland to the BOP a few years ago and have now moved on to reside at the beach....the lucky things.
The guys went fishing, J caught his first fish...two legal snapper! We ate smoked kahawai and fresh bread for lunch one day and fresh pan fried fish with lemon and pepper another. Mmmmmmm!!!
The girls went out for a coffee and caught up on the latest with old girlfriends, and also scoured the opshops looking for and finding thrifty treasure...vintage fabric, woollen blankets to mend and embellish for the kids beds, knitting needles and kids books... I finally found the Bobbsey Twins. (Yes,I am on an Enid Blyton collecting spree at the moment... Lashings of ginger beer anyone?) Bliss! I will be updating with my thrifty refashions later.
After a lovely week away our hearts sank and both J and I audibly sighed as we came over the Bombay Hills and back into Auckland traffic, noise and concrete. We have both solidified our desire to move out of the Big Smoke for a quiet life, where we have time to think and live slowly...and get a puppy!